About
"UPSEU" is the acronym for United Professional and Service Employees Union Local 1222 representing private sector workers.
UPSEU Local 1222 is comprised of workers employed as clerical employees, operations and maintenance employees, manufacturing, food service workers and railroad crew transportation employees, to name a few.
UPSEU's roots date back nearly 30 years. Starting from our first bargaining unit to the most recent unit that has joined us, we have consistently maintained our commitment to providing the best level of representation available to private sector employees.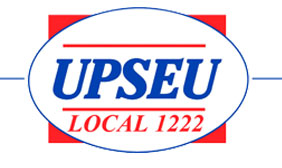 "UPSEU We are Making a Difference in the Workplace"
Here's what Quinnipiac Members Say about UPSEU Local 1222

Unit President Sandy & Vice President Roberta

When we were ready to vote in our NLRB election we heard many negative stories about UPSEU Local 1222. We knew these stories were lies meant to divert our members from voting for UPSEU. On election day our members voted 100% for UPSEU Local 1222. It's the best thing we ever did!!! Now our members are no longer afraid to come forward with problems, due to the professional, personalized service we receive from our UPSEU representative.

Louise
Steward for former union

Our former union wasn't responsive to our questions or needs. With UPSEU Local 1222 we are important! UPSEU's monthly visits have already helped us gain better job security and respect in the workplace.

Paula

UPSEU Local 1222 is second to none! Kevin Boyle Jr. negotiated with our university and in short order got us many improvements in our contract. UPSEU was instrumental in obtaining short term disability for us.

Jayne

UPSEU provides our members with professional, intelligent and strong representation. We are respected and win our grievances and other labor issues. We know who to call; our UPSEU Local 1222 representative is always available to us.




Steward Esther

We see our UPSEU representative every month. Their presence in the workplace has increased management's respect for each and every secretary and clerical worker at Quinnipiac University.

Quinnipiac University Faciities Crew
It was about time for a change!
Page Last Updated: Apr 17, 2020 (10:14:36)