About Us
"UPSEU" is the acronym for United Professional and Service Employees Union Local 1222 representing private sector workers.
UPSEU Local 1222 is comprised of workers employed as clerical employees, operations and maintenance employees, manufacturing, food service workers and railroad crew transportation employees, to name a few.
UPSEU roots date back nearly 30 years. Starting from our first bargaining unit to the most recent unit that has joined us, we have consistently maintained our commitment to providing the best level of representation available to private sector employees.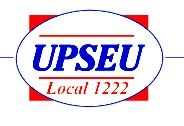 " We are Making a Difference in the Workplace"
Here's What Quinnipiac University Members Say About UPSEU Local 1222
Page Last Updated: Aug 07, 2017 (13:45:14)