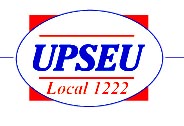 Steps To Forming a Union:
Step One
Form a CORE Group
To ensure organizing success, it is essential to identify a core group of people who want to be ambassadors for change in your workplace. In partnership with UPSEU Local 1222, this core group will take the lead in organizing and educating your peers about the benefits of union membership.

Throughout the organizing process, UPSEU Local 1222 will be by your side. We will answer your questions and offer informational training that will provide you with:
a

general understanding of the labor movement and the benefits of organizing

an overview of the law and how it will affect your organizing efforts

insights about what kind of anti-union propaganda you can expect from management and how to respond effectively
Step 2
Build Support for the Union
If you have a group of people who want improved working conditions, including wages and benefits, then UPSEU Local 1222 can help. UPSEU Local 1222 has earned its reputation as one of the most prominent, hardworking and influential unions in the country by negotiating top-notch contracts and winning landmark legal cases on behalf of its members.

To help you build support for UPSEU Local 1222 within your organization, we can supply you with professional letters and brochures that clearly define the benefits of union membership. Additionally, union representatives will be at your disposal to host information sessions for your co-workers.
Step 3
Distribute Authorization Cards
The National Labor Relations Board (NLRB), an agency of the federal government, requires workers interested in forming a union to sign authorization cards. By signing an authorization card you are not officially joining the union. You are simply showing the NLRB that you are interested in forming a union.

After UPSEU Local 1222 has collected a majority (approximately 65%) of your co-workers signatures on authorization cards, UPSEU Local 1222 will request a secret ballot election by filing a petition with the NLRB. This is the most common way for workers to become organized.
Step 4
Negotiate a Contract
Once you've voted to form a union, your unit will vote to elect a contract negotiating committee to represent the members in contract negotiations. Working in partnership with UPSEU Local 1222's seasoned negotiators, your negotiating team will bargain with management on your wages and working conditions including job descriptions; staffing language; insurance, health and retirement benefits; and more.

When your negotiating committee has reached a tentative contract agreement with management, all of the bargaining unit employees will vote to accept or reject the contract. Once a majority of the bargaining unit members vote to ratify the contract, your employer will be legally bound to abide by the contract.